Narendra Modi did a great job!!! Banning the currency notes is believed to be a milestone in reviving the slowing down economy. It was a now or never situation. Though due to political mileage opposition parties are opposing this move but even they know it was a well planned and timed move to ban the old currency.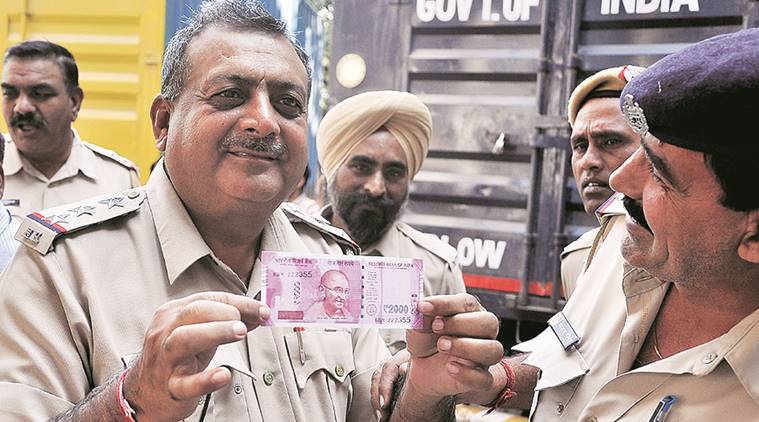 Actually it was not an immediate ban but replacement, you could exchange your notes with new currency notes or deposit into your bank accounts.
Why the currency replacement was much needed?
Currency replacement was needed due to various reasons, you could see the immediate effect on Kashmir violence. Violence was reduced significantly.
Other economic and social reasons to replace old currency notes can be discussed as:
To stop or reduce terror funding.
To remove fake currency notes.
To decrease the size of cash/black economy.
To reduce corruption.
To aware general public about banking system and other modes of transactions.
To catch black money holders .
There could be many other reasons, what we see on TV is just for TRP. Actual facts are known by PMO and I believe we have one of the greatest PM as of now. From government or government spoke persons and RBI representatives, what information or circulars are issued indicates above points.
Now coming to the point, What IT department will do with lot of information it got post demonetization. IT department servers must be functioning at bottleneck to gather useful information from cash deposit data. One thing I can be sure of that it is not possible for IT department to test check each and every transaction. Neither the man power nor statics allow this.
Point is that IT department has information with it, and computers are smarter than humans. At least they don't have mercy. Any mismatch is for sure will get reported and a clarification will be asked from account holders.
A possible procedure, IT department will catch the accounts for scrutiny
Note that, this is not the official procedure Income Tax department follows. It seems there are more than 20 sources from which IT department collects information about a tax payer, but fact remains that department is not able to harness even one source.
A possible way that your or my account gets assessed and could be selected for scrutiny is, going through details provided to department in IT forms and actual bank account activities.
Suppose you are a regular Income Tax payer and you are filing your returns every year. Your annual income disclosed in returns is 5 lakhs and you have deposited 25 lakhs in your bank account. There is a mismatch here.
Again, this is not a final factor. There may be many factors such as your age, duration of your returns, past history among many others.
What about those who never filed their returns but deposited a big amount of money in old currencies in bank accounts? Well, they will be treated similar to any person transacting their bank accounts. But, this was a special situation so the treatment may change.
Income Tax department and government wants to bring a larger earning class into mainstream and force them to abide by IT laws.
Who will be main target for IT department, regular tax payers or with no IT history?
This is one interesting question, but pitch is already drawn. I don't thing IT department will concentrating much on existing tax payers, as they are already into tax stream exceptions may be alarming accounts. But, yes those who have never filed returns or those with heavy or unusual cash deposits must have already been served with notices.
Still a large number of account holders have not received notice, reason could be IT department must be working on plan to tackle work load. I have not heard any news of new hiring or retired officials coming back. Any way government officers are always of sub-standard and do not think the current volume can be handled without much required preparations.
Did you receive a notice from Income Tax Department seeking explanation on cash deposited into your account?
If you are reading this, there can be only 3 reasons. You love to read good posts, you want to discuss this topic or you received a notice. Well, in that case first suggestion is, DO NOT PANIC. Nothing is more valuable than a peaceful life.
How you can get peace from government and IT department? Well, by complying.
Do not panic, comply. You will not receive better suggestion than this. You cannot escape, you will be followed, tracked and government will try hard to bring you under tax net.
Comply does not mean pay your hard kept money to government but pay what you are suppose to pay. It could be even 0.
If you deposited money which was your savings left from income on which you already paid tax, or it was not taxable, you need to justify it and no further action will be initiated.
If it was really tax escaped cash, my advice will be to declare it, pay tax and be happy.
What should be done and what is the procedure to reply notices received from Income Tax Department for cash deposited into bank accounts post demonetization?
First point, read the notice carefully and remember above point (Do not panic). Read the notice what it is asking. If it is asking, explanation meet your Chartered Accountant and discuss it with him. Be ready with all documents that can justify nature of cash deposited.
As of now, you have the option to reply against notice online on Income tax website. But, if notice has specifically directed to meet assessing officer, you need to meet assessing officer in person or you can authorize your Chartered accountant to represent you.
Please write you views and lets discuss.
To be continued........
---
Wow, what a great summary and advice articulated.

One should not panic, that is what even Modi said. It was a much required move, which was even discussed during congress rule. May be due to political will or support was not implemented.

If we see the another angle to demonetization from political angle (its UP election time), many said it was to make cashless to political parties and give political advantages to BJP. Well, that is another story but a good and much appreciated move.

Posted 4 years, 1 month ago by CA Pulkit Sharma
---
Past 2 days more than 13 Lakhs ( 13,00,000 ) notices have been issued by Income Tax department regarding notes deposited into bank account after demonetization.
Here is the sample mail that Income Tax department is sending for seeking information on money deposited.
Cash Transactions made during 9th November to 30th December 2016 - AAXXXXXXXF
Dear Assessee name,

Income-tax Department (ITD) has received 1 information record(s) showing total cash deposits of Rs. 550000 relating to you. ITD has enabled online verification of the cash transactions and there is no need to visit Income tax office for submission of response. The information in respect of these cases has been made available in the e-filing portal. Please submit your response by following the below steps.

Step 1: Login to e-filing portal at https://incometaxindiaefiling.gov.in

Step 2: Click on "Cash Transactions, 2016" link under "Compliance" section.

Step 3: The details of transactions related to cash deposits during 9th Nov to 30th Dec 2016 will be displayed

Step 4: Submit your online response for each transaction.

Click here to refer the "Quick Reference Guide for Online Verification of Cash Deposits".
For detailed "User Guide on Online Verification of Cash Deposits" click here.
Kindly submit your response within 10 days of this email.

Note: Please ignore this mail, if you have already submitted the response.

Regards,
e-filing Team
Income Tax Department
Posted 4 years ago by Rahul Rai
---
Your Reply:
You need to be logged in to reply.